PAIN-FREE DENTAL MARKETING
All of the Practice Growth
None of the marketing headaches
Running A Dental Practice
We are here to make it a little easier.
You Want To Grow Your Practice
You didn't get into dentistry just to fill seats—you want to build meaningful relationships with patients who value quality care and trust your team.
But You Have Your Hands Full
Between managing your team, delivering top-notch patient care, and figuring out online marketing, you've got your hands full, and there's never enough time for everything.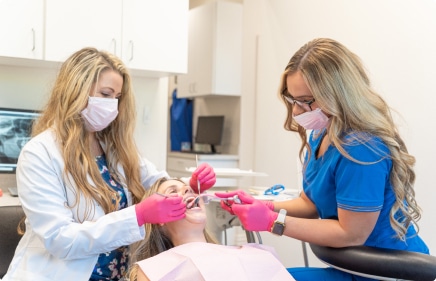 You Need A Partner You Can Trust
At the end of a busy day, you shouldn't have to worry about marketing. You need someone you can trust to handle it, so you can go home and enjoy what matters most to you.
Meet Your
Or as many clients refer to as, best friends.
Many marketing firms offer similar services, but where we shine is in personalized connection. With us, you don't just get a list of services; you gain a team genuinely invested in your practice's success. It's not just business—it's a partnership that feels like friendship.
Meet Team (and Their Alter Egos)
Real Stories,
Success stories from practices we've helped grow.
Hear It From
We love Pain Free Dental Marketing here at Rochester Endodontics! Not only are they an amazing group of people, they are so much fun to work with! From helping with social media presence, making informational videos to share, taking beautiful photos of people and the offices, to updating and creating custom webpages to showcase your practice, they are top notch! They are excellent at coming up with innovative ideas to help your practice shine! Pain Free is definitely the best around!
Great company and people to work with at Pain Free Dental Marketing. I have been working with them for a good 3 plus years. The team at Pain Free takes my feedback to heart and really trying hard to work on what I want for my dental office digital marketing plan. They are proactive in their actions and make things happen without me as a doctor telling them what to do. Overall, it has been a great experience working Pain Free! They are full service, with great team to do everything from photoshoot, video testimonials, website modification, SEO, phone call evaluations, just a whole bunch of creative ideals to help my dental practice stand out. I am really glad that I connected with them after so many other dental marketing firms never come through with their promises and actions.
Manny Rodriguez
2023-07-26
When I was looking to bring on a marketing team to my practice I was referred to the "big guys" and found myself unimpressed and feeling like a number. I reached out to the team at pain free and they've given me an experience that I would normally give my patients. They go above and beyond and work with me to ensure we are on track for my practice goals. Highly personalized and they are highly invested in your goals as a practice and help to ensure your marketing matches that. They are awesome!
Ronnetta Sartor
2023-05-03
Pain Free Dental Marketing has been amazing for our office! We began the process with no website or logo or social media presence and they've helped us with all of the above and so much more! If you are looking to rebrand and/or grow your business, PFDM is the best!
Brent Cornelius
2023-04-25
We love working with Pain-Free Dental Marketing at Sky Creek Dental! The whole team is super knowledgeable and helpful in keeping up with all of our marketing needs. Not only are they great at what they do, but everyone we have worked with is personable and so easy to work with.
Andre and the entire team at Pain Free are great! They go above and beyond for their clients to ensure success. They are incredibly knowledgeable about the industry and work to create custom solutions for their clients. I'm lucky to have them in my network.
Franklyn Aguebor
2023-03-24
I started with this company in October of 2022. It is now March 2023, and I can say that I am over-the-top HAPPY about the progress of my dental practice. This marketing company is second to none and comes highly recommended as the interpersonal touch to their clients is top tier. They truly have a one on one with the doctor and staff to understand your needs and do a thorough evaluation of the practice before, as to come up with a comprehensive approach to levitate the practice. There are many marketing companies out there, but it puts me in a great place to see one that truly cares and loves what they do. Thank you to EVERYONE on the team for being absolutely PHENOMENAL!
I have been coaching since 2001. One of the biggest challenges clients have to deal with is not only marketing their business with successful results but also maintaining a relationship with their marketing company as well. Pain Free Dental Marketing exceeds mine and my client's expectations consistently in both areas. It's about results & relationship. They do both extremely well. I highly recommend them!
What You Get
Besides people that care about you.
Your Own Marketing Department: Forget piecemeal solutions or deciding between packages. With us, you gain an entire team dedicated to your practice's success.
Results, Not Just Activities: We understand you're after outcomes that truly matter to your practice, not just a checklist of services.
Plans Tailored to Your Unique Goals: Once onboard, you get access to all our expertise, custom-fitted to your current goals and needs.
Agile and Adaptive Strategy: As your practice grows and evolves, so does our approach—ensuring we meet your needs at every stage.
Pricing that Respects
We are a small business ourselves, we understand cash flow.
Curious about cost? We get it– your cash flow and P&L health are not just numbers on a spreadsheet. Generally, we suggest setting aside 3-6% of your collections for marketing.
To give you an exact number, we'll need to do an "exam" to understand your practice and goals. From there, we'll create a customized "treatment plan" just for you.
Don't worry, the initial "consult" is on us.
Our Promise
A partnership built on trust. No strings attached.
No Contracts
With us, there's no long-term contract or hidden gotchas. We're month-to-month because we believe you should stay with us because you love our work (and hey, we love working with you too), not because you feel trapped in a contract.
No Babysitting
You've got enough on your plate running a dental practice. The last thing you need is to babysit your marketing team. We're proactive, self-driven, and accountable in everything we do. You won't have to chase us down for updates or worry if we're getting the job done.
No Funny-Business
And when it comes to ownership, it's simple: what we build for you, stays with you. If ever you decide to part ways (although most folks stick around for years), everything we've built for your practice is yours to keep. No funny business. That's the Pain-Free promise.
Transform Your Practice,
One Small Bite at a Time.
Tune in as our founder, Eric, and a lineup of industry-leading guests dive into their strategies and explore the latest trends in the dental space.
Unique Goals.
Your Practice is Unique—So is Your Roadmap to Success.